A safari is a real wishlist trip, and something I'd been dreaming about doing for years. But even when you've picked a location there are so many different options – self-drive or guided, private reserve or National Park, tented camp or lodge? For my first safari I decided to go for the classic, luxurious lodge experience at Naledi Bushcamp, in the private Balule Game Reserve on the edge of South Africa's Kruger National Park. We spent three days in camp, packed with a lot of wildlife (and arguably even more eating). So if you're tempted by a safari and want to know what to expect, here's my diary of 24 hours of game reserve life.
Read more: What to pack for an African safari
5am: Sunrise start for the first game drive
The toughest part of the day on safari has to be the early wake up call. The animals are most active at dawn and dusk, so that means a 5am knock on the door to get you up and out. After getting ready (if you're as bad as me in the mornings it's a good idea to lay everything out the night before), we meet the rest of the group in the lodge and grab a coffee before heading off at 5.30am as it's getting light. It's chilly in an open-top jeep in the early mornings so we have blankets in case we need them, as well as bottles of water. Our guide and tracker work out a route for us, using their knowledge of the animals and updates from other guides in the park. They search for tracks or signs as we bump around the dusty roads, and we spot a giraffe and baby hidden among the trees, as well as plenty of impala and a herd (or should that be a dazzle) of zebras.
7.15am: Stop for coffee in the bush
After a couple of hours of driving it's time to stop and stretch our legs (and for a toilet break behind a convenient bush if you need one). Our guide Eric sets up a table in a beautiful spot overlooking the Olifants River, where a group of hippos are floating in the water. Out comes tea, coffee and hot chocolate, as well as cakes and biscuits to help us get through to breakfast. After about 20 minutes it's all packed up again and we have another hour of exploring the bush before heading back to camp. By now it's light and there are less animals around, but a group of baboons race right by us and we spot a warthog in the distance.
9am: Breakfast time
About 8.30am we arrive back at the camp and have half an hour to shower and change before gathering for breakfast at 9am. Everyone eats together at one long table, and breakfast is a real feast (which you totally feel you've earnt after being awake since 5am). It starts with fresh fruit, juices and homemade muffins or pancakes. Then there's a cooked breakfast, with scrambled egg, mushrooms and crispy bacon on the menu today. We're joined by Sheldrake, one of the camp's staff, who helps us plan the rest of our day – we're free now until the evening game drive but he can organise activities or spa treatments for us.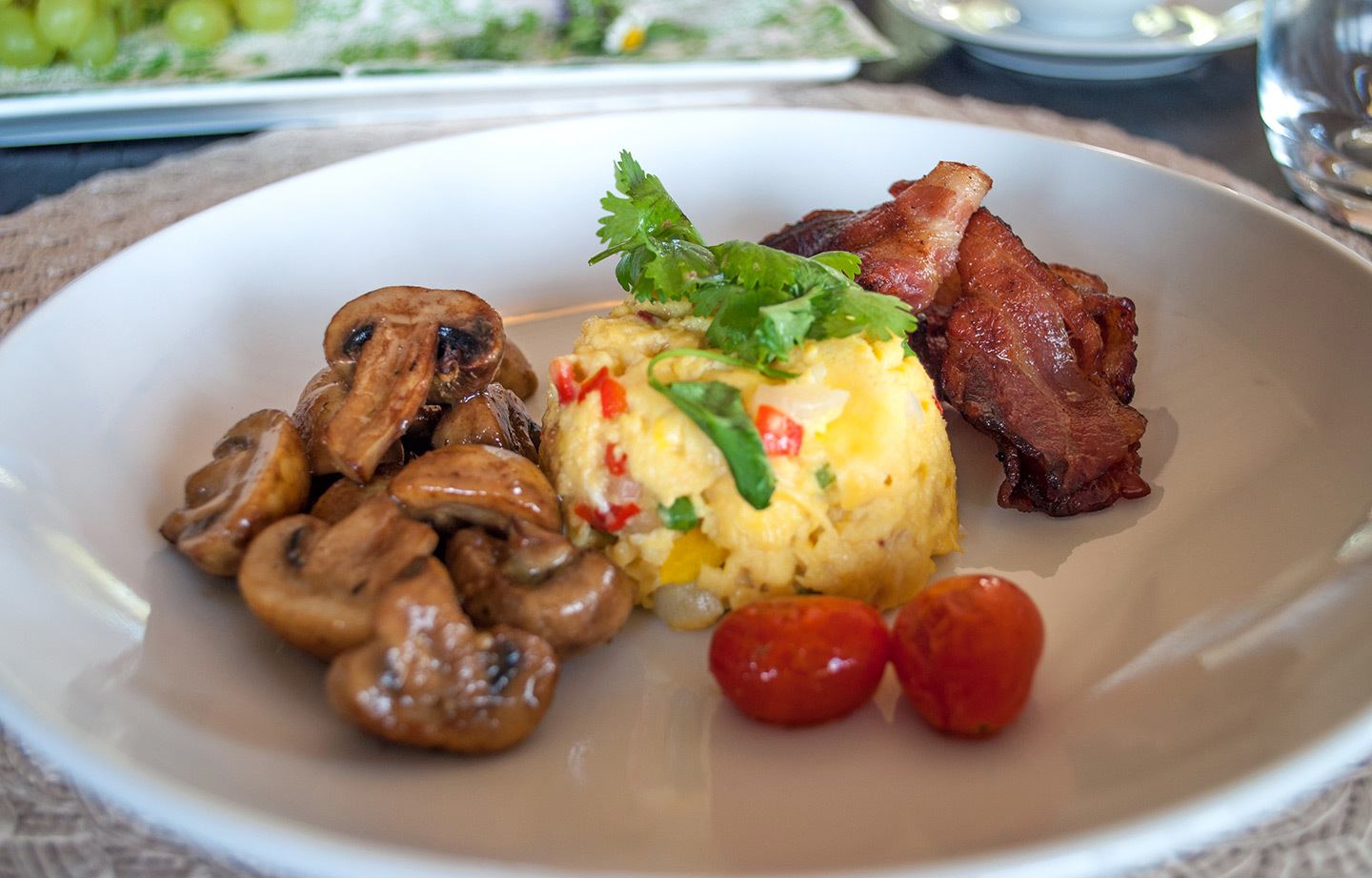 10.30am: Morning activity (or snooze…)
After breakfast you have a choice of activity – you can go on a bush walk or to a hide if you want to do more wildlife watching (or head back to bed if the 5am start was too much). We decide to try out the hide and are driven out to Rosie's Pan, a watering hole 15 minutes from the camp. We're given binoculars and a coolbox of supplies (G&Ts included!) and left on our own for a couple of hours. It's incredibly peaceful, with just the call of birds and the buzzing of insects. It takes a while for us to see anything other than the birds, but then a lone giraffe appears and spends 20 minutes munching his way through leaves right in front of us.
1pm: Relax at the camp
About 12.30pm we're picked up from the hide and taken back to the camp where we have about an hour and a half of free time before lunch. The temperatures are pushing 30 degrees so we take a dip in the pool to cool off before grabbing a sunlounger and book (and trying not to nod off). There are only nine of us staying in the camp and lots of different levels and seating areas, so it's easy to find a quiet spot to yourself.
2.30pm: Lunch
At 2.30pm it's time to eat again (this is definitely not a diet holiday), this time in the upper terrace where we have great views out across the bush. Today's lunch is meatballs with potato wedges and salad. We're joined by a group of very cheeky Vervet monkeys who skulk around the edge of the terrace before making a dive for the leftovers as soon as we put our knives and forks down (one impressively manages to stuff a meatball in his mouth then grab a wedge in each hand!). There are lots of wildlife books up here so we check out a few of them to find out more about what we've been seeing before getting ready for the next game drive.
4.30pm: Afternoon game drive
At 4.30pm it's time to head out on our second game drive, just before the sun sets. This time we get even more lucky and come across a herd of buffalo who walk right around the jeep, totally unfazed by us. Then Eric hears from another guide that a rare black rhino has been spotted in a dried up riverbed across the other side of the reserve, so we speed over and spend 10 minutes watching him. By this time the light's fading and it's getting cold so I dig out my scarf and fleece and layer up before the sun goes down.
6.30pm: Sundowners
As the sun sets we stop for sundowner drinks on a hilltop with views right out over the reserve. Out comes the table again, this time loaded with crisps, nuts, biltong and popcorn. The drinks also come out, with ice blocks and metal wine glasses to keep the white wine nicely chilled. We watch the sky change colour from blue to gold to red. Then when it finally disappears we pack up and head off again for the last hour. Our spotter shines a torch out to see if he can see any reflections from cats' eyes. There's no joy until Eric hears that a leopard has been spotted so we head over and watch him chewing on a bone in the distance.
8pm: Campfires and three-course dinners
We arrive back at the camp around 7.30pm and there's a welcoming party waiting with drinks and hot towels. Then there's just time to shower and change before heading to the bar to grab a bottle of South African red and a couple of glasses. Everyone gathers around the campfire for a drink before heading in to dinner at 8.30pm. It's still warm so the table's been set up outside and the chef comes to tell us what she's made for us. There are three courses, starting with a chicken salad, followed by salmon fillet with rice and vegetables, and then a pear cake with a sticky toffee sauce. A different staff member eats dinner with us each night and tonight it's Eric who tells us stories about his days working in an anti-poaching team.
10.30pm: Bed time
After completely stuffing ourselves we sit around chatting for a bit before heading off to bed about 10.30pm to try and get six hours sleep in before getting up at 5am and starting it all over again!
Have you ever been on safari?

Pin it
My stay at Naledi Bushcamp cost 5900 ZAR (£320) a night for two people, which included everything except for drinks, spa treatments and a reserve conservation fee of 114 ZAR (£6) per person. It wasn't a sponsored trip and Naledi didn't know that I was a blogger or was going to write about my stay.